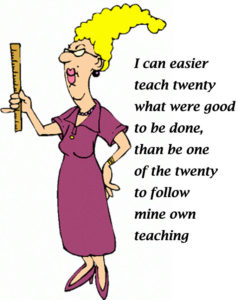 "I can easier teach twenty what were good to be done, than be one of the twenty to follow mine own teaching."
(Merchant of Venice act 1, sc. 2)
Comments.  An obvious truth with ample statistical support, recent and old. The Earl of Chesterfield (1694 -1771) became famous in literature through his letters to his son. Of which (the letters), Samuel Johnson said, "They teach the morals of a whore, and the manners of a dancing master."
In fact the letters failed in their objective. When his son died at the age of 36, Chesterfield learned that he had married in secret; and, contrary to his advice, he had chosen a rather plain girl and of low birth. The idea of the letters may have come from Chesterfield's grandfather, Marquis of Halifax who, in turn wrote "Advice to a Daughter" in 1688. The book was no more successful with the daughter then Chesterfield's letters with the son. Hailfax' daughter turned out an impossible person to live with. Horace Walpole, her husband wrote in her copy of her father's Advice, "wasted effort."
You may wish to take a look at the page describing the book "Your Daily Shakespeare", 1387 pages filled choc-a-block with over 10,000 situations you may find yourself in or involved with, calling for the perfect repartee that will get you on the stage or at least out of the water. The analytical index is structured so that you can quickly select the best words that fit the situation. And if you like this website why not subscribe (see last menu item to the right)? You will get automatically any new blog as well as any other information and novelty that will be forthcoming, including a system to effortlessly (yes) remember hundreds of Shakespearean quotes by heart while having fun in the process. You can also chat with me – please go to the chat-page. And I promise, no sales calls, trade leads, venomous schemes, hidden plots, Machiavellian conspiracies, commercial ploys, psychological tricks, leads exchanges, barter proposals, suggestions or offers of any kind imaginable (and unimaginable).
In the play. Portia candidly admits to a common weakness.
Image Source:  http://www.hasslefreeclipart.com/cart_people/teacher.html