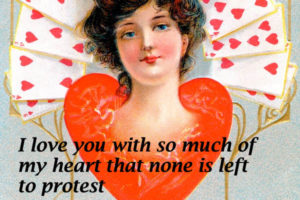 "I love you with so much of my heart that none is left to protest." (Much Ado About Nothing act 4, sc. 1)
Comments.  In the chapter "Symptoms of Love", of Robert Burton's "Anatomy of Melancholy", we find that ancient playwright Eustathius has his character "panting at the heart at the sight of his mistress," he could not sleep, his bed was thorns. All (writers) make leanness, want of appetite, want of sleep ordinary symptoms, and by that means they are brought often so low, so much altered and changed that, as Terence jested in the comedy, 'one can scarce know them to be the same men."
"Attenuant juvenum vigilatae corpora noctes,
       Curaque et immense qui fit amore dolor."
"Young men grow pale and lean from the sleepless
Nights and the cares and pangs of love."
To see entries 1 and 2 on the same subject go respectively to the blogs of May 13, 2012 and May 14, 2012.
You may wish to take a look at the page describing the book "Your Daily Shakespeare", 1387 pages filled choc-a-block with over 10,000 situations you may find yourself in or involved with, calling for the perfect repartee that will get you on the stage or at least out of the water. The analytical index is structured so that you can quickly select the best words that fit the situation. And if you like this website why not subscribe (see last menu item to the right)? You will get automatically any new blog as well as any other information and novelty that will be forthcoming, including a system to effortlessly (yes) remember hundreds of Shakespearean quotes by heart while having fun in the process. You can also chat with me – please go to the chat-page. And I promise, no sales calls, trade leads, venomous schemes, hidden plots, Machiavellian conspiracies, commercial ploys, psychological tricks, leads exchanges, barter proposals, suggestions or offers of any kind imaginable (and unimaginable).
In the play. Beatrice to Benedick after they engage in a witty exchange on mutual protestations of love.
Image Source:  http://missmary.com/category/free-vintage-clip-art/page/3/