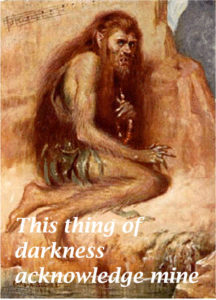 "…Two of these fellows you
Must know and own; this thing of darkness!
Acknowledge mine." (Tempest act 5, sc. 1)
Comments. The 'thing of darkness' is the monster Caliban of the Tempest. But the description fits anything that you particularly dislike or person you particularly dislike because of character or other issues. E.G. "This thing of darkness works in the same department where I work." It can equally apply to any item you own but do not value much e.g. an old car, a tattered executive briefcase, a stained coffee mug etc. e.g. 'This thing of darkness I acknowledge mine'.
You may wish to take a look at the page describing the book "Your Daily Shakespeare", 1387 pages filled choc-a-block with over 10,000 situations you may find yourself in or involved with, calling for the perfect repartee that will get you on the stage or at least out of the water. The analytical index is structured so that you can quickly select the best words that fit the situation.
And if you like this website why not subscribe (see last menu item to the right)? You will get automatically any new blog as well as any other information and novelty that will be forthcoming, including a system to effortlessly (yes) remember hundreds of Shakespearean quotes by heart while having fun in the process. You can also chat with me – please go to the chat-page. And I promise, no sales calls, trade leads, venomous schemes, hidden plots, Machiavellian conspiracies, commercial ploys, psychological tricks, leads exchanges, barter proposals, suggestions or offers of any kind imaginable (and unimaginable).
In the play. Prospero addresses the re-united company. The two fellows are the drunkard conspirators Stephano and Trinculo. The 'thing of darkness' is Caliban, who hoped to state a coup d'etat, unseat Prospero and marry Prospero's daughter Miranda.
Image Source:  http://disco-souviners.blogspot.com/2011/10/lrad-caliban_08.html