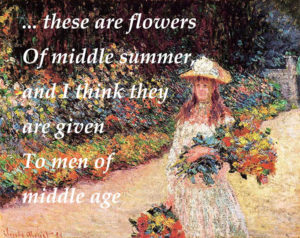 "….Here's flowers for you;
Hot lavender, mints, savoury, marjoram;
The marigold, that goes to bed wi' the sun
And with him rises weeping: these are flowers
Of middle summer, and I think they are given
To men of middle age. You're very welcome."
(Winter's Tale.4.4)
Tips for Use. In Shakespeare's plays and sonnets flowers are either described as such or usually associated to or compared to ladies. This is a notable exception.If you are a middle age man this would be a reply to the question, (however unlikely), 'What kind of flowers do you like?'
The flowers in these lines are all familiar – a bit less perhaps is savoury. That is actually Satureja Hortensis or Summer Savory, an annual plant with narrow green leaves and spikes of white or pink flowers in summer. Should you look into it further you would find that the delicate spice of Summer Savory has made it a favorite in kitchens, especially when teamed with early crops of green beans and new potatoes. Not only, but dried savory excels when combined with rosemary, thyme, lavender, and bay leaf, the basic foundation for Herbes de Provence, to which other herbs, such as marjoram, basil, and fennel are added. Perdita's character in the play along with the Herbes de Provence suggest a match with Monet's painting, Jeune Fille dans le Jardin de Giverny. Though, to be geographically accurate, Giverny is in Normandy.
Take a look at the web-page describing the book "Your Daily Shakespeare", 1390 pages filled to the brim with over 10,000 situations you may find yourself in or involved with, attuned to the perfect Shakespearean repartee that will get you on the stage or at least out of the water – besides making you  a winner of verbal contests. "Your Daily Shakespeare" has been described as the most unusual, useful and unique book of Shakespearean quotations. Nothing similar exists or has ever existed.
And if you like this website why not subscribe (see last menu item to the right)? You will get automatically any new blog as well as any other information and novelty that will be forthcoming, including a system to effortlessly (yes) remember hundreds of Shakespearean quotes by heart while having fun in the process. You can also chat with me – please go to the chat-page. And I promise, no sales calls, trade leads, venomous schemes, hidden plots, Machiavellian conspiracies, commercial ploys, psychological tricks, leads exchanges, barter proposals, suggestions or offers of any kind imaginable (and unimaginable).
In the play. Camillo, just arrived in Bohemia meets with the shepherdess Perdita (alias daughter of Leontes, king of Sicilia). Perdita in kindness offers flowers to him – clearly a middle aged man. Camillo proves quite the romantic and replies with a pointed compliment,
"I should leave grazing, were I of your flock,
And only live by gazing."
Image Source:  http://www.flickriver.com/photos/7208148@N02/5014269880/