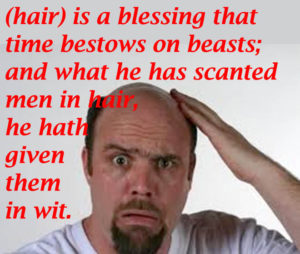 ANTIPHOLUS of Syracuse. Why is Time such a niggard of hair, being, as it is, so plentiful an excrement?
DROMIO of Syracuse. Because it is a blessing that time bestows on beasts; and what he has scanted men in hair, he hath given them in wit.
ANTIPHOLUS OF SYRACUSE Why, but there's many a man hath more hair than wit.
DROMIO OF SYRACUSE Not a man of those but he hath the wit to lose his hair.
(Comedy Of Errors, act 2, sc. 2)
Tips for Use. Depending on your hair condition use Dromio's comment as a statement in self-defense or as a self-effacing, tone-down comment – should anyone comment on your luxuriant hair. If you have plenty of hair and groom it with care, you may keep in mind the word of caution that Ovid gives to women regarding men who style their hair, ''But avoid men who profess elegance and good looks and who arrange their hair in their proper place. What they tell you they have told a thousand women; their fancy wanders, and has no fixed abode." (Art Of Loving, book 3) And in offering a consolation to men Ovid adds, "We men, alas, grow bald. Our hair, of which time robs us, falls even as the leaves when the North wind brings them down. A woman will dye her hair with the juice of some German herb; and the artificial colour becomes her better than the natural one. A woman will appear wearing a mass of hair that she has just purchased. For a little money she can buy another's tresses. She'll do the deal without a blush…" (nos male detegimur, raptique aetate capilli, ut Borea frondes excutiente, cadunt. Femina canitiem Germanis inficit herbis, et melior vero quaeritur arte color, femina procedit densissima crinibus emptis, proque suis alios efficit aere suos. nec rubor est emisse…"
Now take a look at the web-page describing the book "Your Daily Shakespeare", 1390 pages filled to the brim with over 10,000 situations you may find yourself in or involved with, attuned to the perfect Shakespearean repartee that will get you on the stage or at least out of the water – besides making a winner of any verbal contest. "Your Daily Shakespeare" has been described as the most unusual, useful and unique book of Shakespearean quotations. Nothing similar exists or has ever existed.
And if you like this website why not subscribe (see last menu item to the right)? You will get automatically any new blog as well as any other information and novelty that will be forthcoming, including a system to effortlessly (yes) remember hundreds of Shakespearean quotes by heart while having fun in the process. You can also chat with me – please go to the chat-page. And I promise, no sales calls, trade leads, venomous schemes, hidden plots, Machiavellian conspiracies, commercial ploys, psychological tricks, leads exchanges, barter proposals, suggestions or offers of any kind imaginable (and unimaginable).
In the play. After having been beaten by Antipholus from Syracuse, Dromio S. enters into a semi-serious disquisition on baldness with Antipholus from Ephesus. Dromio S asserts that time itself is bald ("a rule as plain as the bald pate of Father Time itself"). 'Niggard' = 'Stingy provider'.
Image Source:  http://blogthechurch.wordpress.com/category/apologetics/