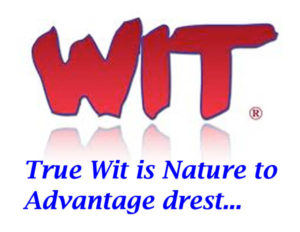 "True Wit is Nature to Advantage drest,
What oft was thought, bit ne'er so well Exprest"
(A. Pope, Essay on Criticism)
In today's blog we take a brief excursion outside of the Shakespeare realm. A bit like the Tour de France, that, being such, takes the occasional leap into one of the neighboring countries. I will start by thanking the participants to the workshop "Put Shakespeare in Your Writings" held on the occasion the Willamette Writers' Annual Conference at the Sheraton Airport Hotel in Portland, Oregon. During the workshop, participants demonstrated to themselves how easy is to start from any Shakespearean quotation, to incorporate it into your writing and even to build a mini-plot about it. As also mentioned in the page "About this Site", I am available to exchange subject related ideas.
Furthermore, those who purchased a copy of the book "Your Daily Shakespeare" (or will purchase a copy), will also receive a copy of the book-DVD coming out this fall, titled "The Mnemonic Frame System – How to Remember over 500 Shakespearean Quotations without really Trying."
As discussed during the workshop, Shakespearean lines interjected in your writing (or any communication) leave a special mark in the mind of the reader (or the hearer). In fact, one of the workshop participants was formerly a ship captain. And a ship captain, by definition, meets many different people in many different places. He stated, if I paraphrase him correctly, that of all the people he met, he remembers particularly those who quoted something from Shakespeare while talking to him.
Which brings us to the line of today, by Alexander Pope. That is, being original (and/or amusing) consists in saying something that perhaps we ourselves may have thought, but that the writer excelled in expressing.
The folllowing is for new viewers and subscribers of this site. Take a look at the web-page describing the book "Your Daily Shakespeare", 1390 pages filled to the brim with over 10,000 situations you may find yourself in or involved with, attuned to the perfect Shakespearean repartee that will get you on the stage or at least out of the water – besides making a winner of any verbal contest. "Your Daily Shakespeare" has been described as the most unusual, useful and unique book of Shakespearean quotations. Nothing similar exists or has ever existed.
And if you like this website why not subscribe (see last menu item to the right)? You will get automatically any new blog as well as any other information and novelty that will be forthcoming, including a system to effortlessly (yes) remember hundreds of Shakespearean quotes by heart while having fun in the process. You can also chat with me – please go to the chat-page. And I promise, no sales calls, trade leads, venomous schemes, hidden plots, Machiavellian conspiracies, commercial ploys, psychological tricks, leads exchanges, barter proposals, suggestions or offers of any kind imaginable (and unimaginable).
Notes. Alexander Pope, 1688-1744, according to statistics, is the third most quoted poet after Shakespeare and Tennyson. His  Essay on Criticism was first published anonymously on 15 May 1711. He wrote it early in his career and it took him about three years to finish it.
Image Source:  http://www.iwit.biz/