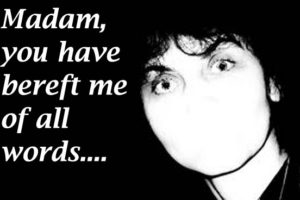 "Madam, you have bereft me of all words,
Only my blood speaks to you in my veins…
(Merchant Of Venice, act 3., sc. 2)
Tips for use. Words of love hang on a very thin thread from which it is easy to fall from the poetic to the rhetorical, the exaggerated and the ridiculous. The general rule is, thread carefully. The first line "you have bereft me of all words" is a time-gainer when, after being told something pleasant, you don't know or you are looking for what to say. This could happen in any encounter or during a presentation, debate or similar. But returning to the subject of the quote, love can be a source of happiness or melancholy. To cure which (melancholy), Robert Burton wrote his monumental Anatomy of Melancholy, a book of which is appropriately dedicated to love and the melancholy thereof. James Granger (1723-1776) in his History of England wrote, "He (Robert Burton) composed his book with a view of relieving his own melancholy, but increased it to such a degree, that nothing could afterwards make him laugh."
Take a look at the web-page describing the book "Your Daily Shakespeare", 1390 pages filled to the brim with over 10,000 situations you may find yourself in or involved with, attuned to the perfect Shakespearean repartee that will get you on the stage or at least out of the water – besides making a winner of any verbal contest. "Your Daily Shakespeare" has been described as the most unusual, useful and unique book of Shakespearean quotations. Nothing similar exists or has ever existed.
And if you like this website why not subscribe (see last menu item to the right)? You will get automatically any new blog as well as any other information and novelty that will be forthcoming, including a system to effortlessly (yes) remember hundreds of Shakespearean quotes by heart while having fun in the process. You can also chat with me – please go to the chat-page. And I promise, no sales calls, trade leads, venomous schemes, hidden plots, Machiavellian conspiracies, commercial ploys, psychological tricks, leads exchanges, barter proposals, suggestions or offers of any kind imaginable (and unimaginable).
In the play. Bassanio has just won Portia's hand by solving a riddle. Portia gives him a ring accompanied by impassioned words of love.
Image Source:  http://fineartamerica.com/featured/speechless-yurix-sardinelly.html