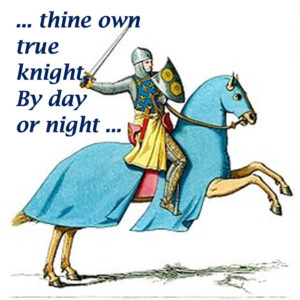 "Thine own true knight,
By day or night,
Or any kind of light,
With all his might"
(Merry Wives of Windsor, act 2, sc. 1)
Tips for use. A good ending, even if mildly overstated, to a love note or letter or card, at least the first two lines. Or all four, if you intend to appear amusing. Falstaff may have been extreme in his scheme. But the idea that multiple loves more or less make the man is well conveyed by Oscar Wilde according to whom, "The people who love only once in their lives are really the shallow people. What they call their loyalty and fidelity, I call it either the lethargy of custom or their lack of imagination." Whereas, in his stately English, Samuel Johnson declared that love is the wisdom of the fool and the folly of the wise. Possibly a reader of these lines may be currently in love while preferring that it may be not widely known. If so, he should be reminded of the ancient Greek poet Antiphanes who observed that two things a man cannot hide: that he is drunk, and that he is in love.
You may look at the web-page describing the book "Your Daily Shakespeare", 1390 pages filled to the brim with over 10,000 situations you may find yourself in or involved with, attuned to the perfect Shakespearean repartee that will get you on the stage or at least out of the water – besides making a winner of any verbal contest. The analytical index is structured so that you can quickly select the best words that fit the situation. You can buy the book on line by clicking on 'Book Store' in the second line of the menu.
And if you like this website why not subscribe (see last menu item to the right)? You will get automatically any new blog as well as any other information and novelty that will be forthcoming, including a system to effortlessly (yes) remember hundreds of Shakespearean quotes by heart while having fun in the process. You can also chat with me – please go to the chat-page. And I promise, no sales calls, trade leads, venomous schemes, hidden plots, Machiavellian conspiracies, commercial ploys, psychological tricks, leads exchanges, barter proposals, suggestions or offers of any kind imaginable (and unimaginable).
In the play. Ending of Falstaff's identical letter(s) respectively mailed to Mrs. Ford and Mrs. Page. Falstaff planned to simultaneously seduce the two (married) ladies and sponge out miscellaneous benefits from each. The plan will fail with remarkable unfavorable results for the aspiring Romeo.
Image Source:  http://en.wikipedia.org/wiki/Knight