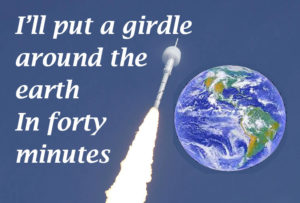 "I'll put a girdle around the earth
In forty minutes."
(Midsummer Night's Dream, act 2, sc. 1)
Tips for Use.  A good answer to the question, "When will you be back?" – especially if the questioner expects you to be back promptly and with mission accomplished. Clearly Shakespeare anticipated the space age and the concurrent achievable speeds. Most people do not like to be considered slow. Mark Twain, for example, observed as follows, "I have seen slower people than I am – and more deliberate… and even quieter, and more listless, and lazier people than I am. But they were dead." And the implied expectation or praise of speedy execution much depends on the national character. One Italian adage goes, "Go slow, because I am in a hurry."
You may look at the web-page describing the book "Your Daily Shakespeare", 1390 pages filled to the brim with over 10,000 situations you may find yourself in or involved with, attuned to the perfect Shakespearean repartee that will get you on the stage or at least out of the water – besides making a winner of any verbal contest. The analytical index is structured so that you can quickly select the best words that fit the situation. And if you like this website why not subscribe (see last menu item to the right)? You will get automatically any new blog as well as any other information and novelty that will be forthcoming, including a system to effortlessly (yes) remember hundreds of Shakespearean quotes by heart while having fun in the process. You can also chat with me – please go to the chat-page. And I promise, no sales calls, trade leads, venomous schemes, hidden plots, Machiavellian conspiracies, commercial ploys, psychological tricks, leads exchanges, barter proposals, suggestions or offers of any kind imaginable (and unimaginable).
In the Play.  Oberon assigns a task to Puck and he is ready to execute it quickly. The task is to set a few drops in Titania's eyes while she is asleep. Whereupon on waking up she will fall in love with the first creature she sees. The creature will be actually an ass.
Image Source:  http://spacefellowship.com/news/art15038/what-s-next-for-the-ares-rocket-.html