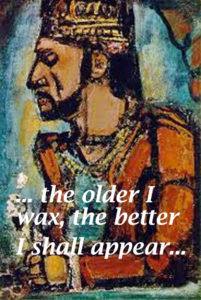 "I was created with a stubborn outside, with an aspect of iron, that, when I come to woo the ladies, I frighten them. But in faith the elder I wax, the better I shall appear: my comfort is that old age, that ill layer-up of beauty, can do no more spoils upon my face." (King Henry V act 5, sc.2)
Comments.  In general modesty is good, but it is absolutely necessary when you are not (or do not consider yourself to be) Mr. America material.  Don't you immediately recall these Shakespeare lines when asked about your age? You can always reply that you are old enough to have good taste and young enough to have an appetite. Age improving appearance by default, that is, by not adding more 'spoils' is quite an original proposition. Ambrose Bierce in his Devil's Dictionary defined age as that period of life in which we compound for the vices that we still cherish by reviling those that we no longer have the enterprise to commit. Oscar Wilde said quite a lot on the subject. For example, "The tragedy of old age is not that one is old, but that one is young." And, "As soon as people are old enough to know better, they don't know anything at all." The subject of age takes a completely different hue with ladies, but again Oscar Wilde suggests that no woman should ever be accurate about her age as it looks too calculating.
You may look at the web-page describing the book "Your Daily Shakespeare", 1390 pages filled to the brim with over 10,000 situations you may find yourself in or involved with, attuned to the perfect Shakespearean repartee that will get you on the stage or at least out of the water – besides making a winner of any verbal contest. The analytical index is structured so that you can quickly select the best words that fit the situation. And if you like this website why not subscribe (see last menu item to the right)? You will get automatically any new blog as well as any other information and novelty that will be forthcoming, including a system to effortlessly (yes) remember hundreds of Shakespearean quotes by heart while having fun in the process. You can also chat with me – please go to the chat-page. And I promise, no sales calls, trade leads, venomous schemes, hidden plots, Machiavellian conspiracies, commercial ploys, psychological tricks, leads exchanges, barter proposals, suggestions or offers of any kind imaginable (and unimaginable).
In the Play.  King Henry V, after defeating the French at the battle of Agincourt, woos the queen of France
Image Source:   http://www.artchive.com/artchive/r/roualt/old_king.jpg.html