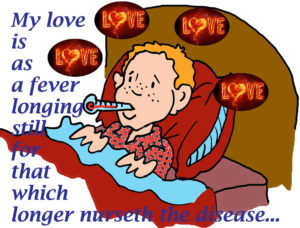 "My love is as a fever, longing still
For that which longer nurseth the disease…" (SON 147)
Tips for Use. When you are consumed with passion and cannot give her up. Or to express the strength of your attachment. In his massive 'Anatomy of Melancholy', Robert Burton, writing about the prognostics of love says, "What fires, torments, care, jealousies, suspicions, fears, griefs, anxieties, accompany such as are in love, I have sufficiently said (in 190 pages written in font #8, my note). The next question is, what will be the event of such miseries, what they foretell. Some are of opinion you that this love cannot be cured. Nullis amor est medicabilis herbis  [love can be cured by no herbs], it accompanies them to the last. Idem amor exitio est pecori pecorisuq magistro  [the same passion consumes both the sheep and the shepherd], and is so continuate, that by no persuasion almost it may be relieved. "Bid me not love – says Euryalus – bid the mountains come down into the planes, bid the rivers run back to their fountains; I can as soon leave to love, as the sum leave his course."
You may look at the page describing the book "Your Daily Shakespeare", 1390 pages filled choc-a-block with over 10,000 situations you may find yourself in or involved with, attuned to the perfect Shakespearean repartee that will get you on the stage or at least out of the water – besides making a winner of any verbal contest. The analytical index is structured so that you can quickly select the best words that fit the situation. And if you like this website why not subscribe (see last menu item to the right)? You will get automatically any new blog as well as any other information and novelty that will be forthcoming, including a system to effortlessly (yes) remember hundreds of Shakespearean quotes by heart while having fun in the process. You can also chat with me – please go to the chat-page. And I promise, no sales calls, trade leads, venomous schemes, hidden plots, Machiavellian conspiracies, commercial ploys, psychological tricks, leads exchanges, barter proposals, suggestions or offers of any kind imaginable (and unimaginable).
On  Sonnet 147. While many Sonnets were dedicated to a man, Sonnet 147 is reputed to have been dedicated to the mysterious 'Dark Lady'. However, the Dark Lady is so called not so much because of mystery but because she had black hair and dusky skin. Judging by the related flow of the Sonnets it seems that the relationship with the Dark Lady ended when she took up with the Fair Youth, to whom many sonnets are dedicated. At this point all sorts of conjectures are possible.
Image Source:   http://www.broadwaypediatrics.com/fever.html