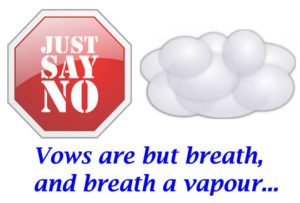 "Vows are but breath, and breath a vapour is"
(Love's Labours Lost, act 4, sc. 3)
Comments. The line can be interpreted in two ways, or better, adapted to two opposite circumstances. To state that vows are but breath means to deny the validity of any commitment. As such, the message has a negative tone to be deprecated  by anyone endowed with an ethical compass. Still, the line perfectly describes the attitude of politicians and others in regard to their ability or intent to fulfill promises or vows. The matter is so obvious as to make any example redundant. For the sake of form we can only remember the countless 'treaties' with the American Indians regularly disregarded (just as the topic 'vapour') in the name of greed, or whatever other fancy name politicians may bestow on their crimes. Back to  Shakespeare, the vow on the point of being broken is silly (see the 'in the play' section). The underlying idea, however, is that the meaning a word (and of associated actions) can be easily manipulated by focusing on hidden associations stemming from the word itself (vows -> breath -> vapour).
You may look at the page describing the book "Your Daily Shakespeare", 1390 pages filled choc-a-block with over 10,000 situations you may find yourself in or involved with, attuned to the perfect Shakespearean repartee that will get you on the stage or at least out of the water – besides making a winner of any verbal contest. The analytical index is structured so that you can quickly select the best words that fit the situation. And if you like this website why not subscribe (see last menu item to the right)? You will get automatically any new blog as well as any other information and novelty that will be forthcoming, including a system to effortlessly (yes) remember hundreds of Shakespearean quotes by heart while having fun in the process. You can also chat with me – please go to the chat-page. And I promise, no sales calls, trade leads, venomous schemes, hidden plots, Machiavellian conspiracies, commercial ploys, psychological tricks, leads exchanges, barter proposals, suggestions or offers of any kind imaginable (and unimaginable).
In the play.  Longaville attempts to find a tenable excuse to break the vows of total abstinence and chastity that he, the king and other friends made earlier in the play. The trigger for the change of hearts was the arrival of a group of charming ladies accompanying a Princess.
Image Source:   http://www.themeanings.com/dashboard/plugin/page/word/abstinence