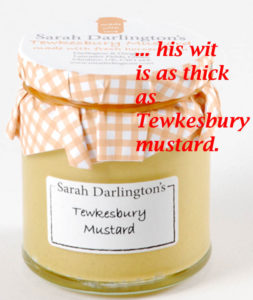 "…his wit is as thick as Tewkesbury mustard!"
(King Henry IV p2, act 2, sc. 4)
Comments.  Excellent comeback especially appropriate for people who think of themselves as being witty when they are not.  One such category is that of the critics, who, according to Anton Checkhov "…are like horse-flies which prevent the horse from ploughing."  While for Samuel Johnson (1709-1784), "Criticism is a study by which men grow important and formidable at very small expense." Tewkesbury mustard was developed in the Cotswold town of Tewkesbury in Gloucestershire and gained notoriety in the 17th Century becoming a staple condiment of the kitchens of the time. Mrs. Darlington's Tewkesbury is made with fresh horseradish. More specifically the ingredients are: Dijon Mustard (85%) (Water, Mustard Seeds, Vinegar, Salt, Antioxidant (Citric Acid)), Fresh Horseradish (15%). To know more refer to the link on the image source.
You may look at the page describing the book "Your Daily Shakespeare", 1387 pages filled choc-a-block with over 10,000 situations you may find yourself in or involved with, calling for the perfect Shakespearean repartee that will get you on the stage or at least out of the water – besides making a winner of any verbal contest. The analytical index is structured so that you can quickly select the best words that fit the situation. And if you like this website why not subscribe (see last menu item to the right)? You will get automatically any new blog as well as any other information and novelty that will be forthcoming, including a system to effortlessly (yes) remember hundreds of Shakespearean quotes by heart while having fun in the process. You can also chat with me – please go to the chat-page. And I promise, no sales calls, trade leads, venomous schemes, hidden plots, Machiavellian conspiracies, commercial ploys, psychological tricks, leads exchanges, barter proposals, suggestions or offers of any kind imaginable (and unimaginable).
In the play. Falstaff's opinion of Poins' intelligence. Tewkesbury is a town in Gloucestershire, at the confluence of the rivers Avon and Severn. Tewkesbury mustard is horseradish mustard. In turn, Poins doesn't have much of an opinion of Falstaff (see entry of July 8, 2012)
Image Source:  http://www.kendrickstreetdeli.co.uk/darlington-daughters-tewkesbury-mustard-175g-p-409.html