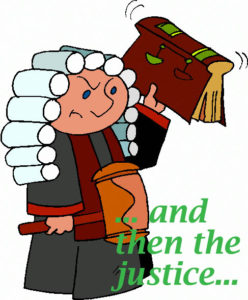 "And then the justice,
In fair round belly with good capon lin'd,
With eyes severe and beard of formal cut,
Full of wise saws and modern instances;
And so he plays his part." (As You Like It, act 2, sc. 7)
Tips for use.  Of course the justice referred to in the quote was in England. Of which (the English justices) Thomas Jefferson said, "For Heaven's sake discard the monstrous wig which makes the English judges look like rats peeping through bunches of oakum." Where 'oakum' is a kind of loose fiber from untwisted rope, and mixed with tar, used to caulk wooden ships. This is the fifth age of man in the total of seven. To locate the previous related blogs, the "ages of men, all the world is a stage" etc., the introduction to these famous Shakespeare lines is in the blog of Feb 29, 2012. Stage 1 – the infant, in the blog of  Apr 9, 2012; stage 2 – the whining schoolboy in the blog of Jun 2, 2012; stage 3 – the lover, in the blog of Jun 8, 2012; stage 4, the soldier in the blog of Jun 12, 2012.
If you like this website why not subscribe (see last menu item to the right)? You will get automatically any new blog as well as any other information and novelty that will be forthcoming, including a system to effortlessly (yes) remember hundreds of Shakespearean quotes by heart while having fun in the process. You can also chat with me – please go to the chat-page. And I promise, no sales calls, trade leads, venomous schemes, hidden plots, Machiavellian conspiracies, commercial ploys, psychological tricks, leads exchanges, barter proposals, suggestions or offers of any kind imaginable (and unimaginable).
In the play. Jacques philosophizes in the forest of Arden. 'Capon' is a castrated chicken and a typical gift to a judge. 'Capon-justice' was a term used to indicate a judge who could be bribed with a capon. 'Saws'= 'Maxims, sentences'.
Image Source:  clipartheaven.com