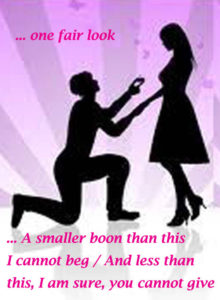 "Vouchsafe me, for my meed, but one fair look;
A smaller boon than this I cannot beg
And less than this, I am sure, you cannot give." (Two Gentlemen from Verona, act 5, sc. 4)
Tips for use. When she just says no, try "… one fair look, a smaller boon than this I cannot beg". You can also include "Vouchsafe me, for my meed… etc.", where 'meed' (or 'mead') is Old English for 'reward'. Actually, meed was a fermented honey drink. Therefore it is reasonable to conclude that meed is a metaphor based on the presumed appeal of a fermented honey drink.
If you like this website why not subscribe (see last menu item to the right)? You will get automatically any new blog as well as any other information and novelty that will be forthcoming, including a system to effortlessly (yes) remember hundreds of quotes by heart (Shakespearean or otherwise) while having fun in the process. You can also chat with me – please go to the chat-page. And I promise, no sales calls, trade leads, venomous schemes, hidden plots, Machiavellian conspiracies, commercial ploys, psychological tricks, leads exchanges, barter proposals, suggestions or offers of any kind imaginable (and unimaginable).
In the play. Proteus, the less gentlemanly of the two gentlemen from Verona is rejected by Silvia, but he still pursues her in the forest.
Original site for image: http://www.cute-wallpaper.com/preview.asp?id=2198