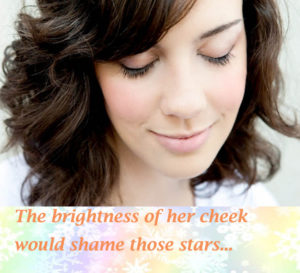 "The brightness of her cheek would shame those stars,
As daylight doth lamp…"  (Romeo and Juliet, act 2, sc. 2)
Tips for use. Lay it thick,  "the brightness of your cheek would shame those stars…lamp." Are the lady's cheeks not as bright she would like them to be? Does she apply make up? Latin poet Ovid suggests that her make-up process should not be watched by anyone. 'So while you are at your parlor let us think you are asleep; it is more fitting that you should be seen only when the last touch has been applied. Why must I know the cause of the whiteness of your cheeks? Close your chamber door: why show the unfinished work? There is much that it befits men not to know; most of your doings would offend, did you not hide them within.' (Art Of Love, book 3).
If you like this website why not subscribe (see last menu item to the right)? You will get automatically any new blog as well as any other information and novelty that will be forthcoming, including a system to effortlessly (yes) remember hundreds of Shakespearean quotes by heart and having fun in the process. You can also chat with me – please go to the chat-page. And I promise, no sales calls, trade leads, venomous schemes, hidden plots, Machiavellian conspiracies, commercial ploys, psychological tricks, leads exchanges, barter proposals, suggestions or offers of any kind imaginable (and unimaginable).
In the play. Romeo sees Juliet at her balcony while he is down in her garden.
Site for Image: http://blog.homerunballerina.com/2010/06/birthday-mirthday.html