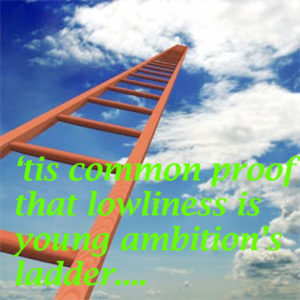 "…'tis a common proof,
That lowliness is young ambition's    ladder,
Whereto the climber-upward turns his face;
But when he once attains the upmost round,
He then unto the ladder turns his back,
Looks in the clouds, scorning the base degrees
By which he did ascend." (Julius Caesar act 2., sc.1)
Tips for use.  Sadly, a common occurrence with people who, often due to quite fortuitous circumstances acquire either wealth or positions of influence. Good lines to tease a friend who has become important and now does not want to acknowledge you or help you in some way. The first two lines could be the beginning of your answer (during a job interview), to the question,… "What is your ambition?", especially if you are applying for an entry level job. E.G. "I know that lowliness is young ambition's ladder…. and then describe your goals."
However, I must add that once I faced a very obnoxious interviewer, the very upstart that these lines applies to, haughty, disdainful, obviously full of himself and bordering on the rude. So when he asked me what was my ambition, I said, "My ambition is to set up a choir of naked ladies and tour the nation, to bring music to the millions and pleasure to the deaf."
If you like this website why not subscribe (see last menu item to the right)? You will get automatically any new blog as well as any other information and novelty that will be forthcoming, including a system to effortlessly (yes) remember hundreds of Shakespearean quotes by heart and having fun in the process. You can also chat with me – please go to the chat-page. And I promise, no sales calls, trade leads, venomous schemes, hidden plots, Machiavellian conspiracies, commercial ploys, psychological tricks, leads exchanges, barter proposals, suggestions or offers of any kind imaginable (and unimaginable).
In the play.  Brutus comments on what usually happens when circumstances elevate a man well above the level he started from.
Image Source: http://trustliveserve.wordpress.com/