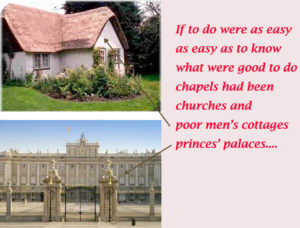 "If to do were as easy as to know what were good to do, chapels had been churches and poor men's cottages princes' palaces – it is a good divine that follows his own instructions." (Merchant of Venice act 1, sc. 2)

Tips for use.  Encapsulation of an unavoidable truth – knowing what needs to be done but falling out at the time of implementation. Which is but one of the reasons for being skeptical of "miraculous" systems or methods that promise spectacular results based on the charisma of the instructor. In fact Portia continues, "I'd rather teach twenty what were to be done than be one of the twenty to follow my own teaching". If you ever have had this feeling, accompanied maybe by a diffuse sense of listlessness, as you see, the phenomenon is neither new or uncommon. The quote may be suitable in a presentation in which you are the give of good ideas to an audience that must carry them out.
If you like this website why not subscribe (see last menu item to the right)? You will get automatically any new blog as well as any other information and novelty that will be forthcoming, including a system to effortlessly (yes) remember hundreds of Shakespearean quotes by heart and having fun in the process. You can also chat with me – please go to the chat-page. And I promise, no sales calls, trade leads, venomous schemes, hidden plots, Machiavellian conspiracies, commercial ploys, psychological tricks, leads exchanges, barter proposals, suggestions or offers of any kind imaginable (and unimaginable).
In the play.  Portia acknowledges a universal truth.