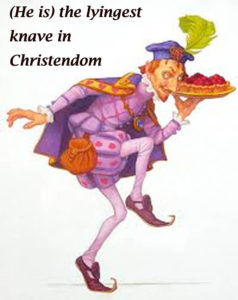 "Then, Saunder, sit there, the lyingest knave in Christendom. If thou hadst been born blind, thou mightest as well have known all our names as thus to name the several colours we do wear" (King Henry VI.part 2. act 2 sc. 1)
Tip for Use.  Excellent way to tell a liar that he is one such ("You are the the lyingest knave in Christendom"). Humor always risks death when explained. Still, in the instance, that impossible but understandable superlative ('lyingest'), makes the insult amusing. Along with bringing in 'Christendom' as a synonym for 'civilized world', while indirectly pointing to the breaking of the eighth commandment. And that medieval 'knave' for our modern scoundrel (SOB) adds a final touch. You can deliver the insult in earnest or jokingly. Either way, the effect is assured. Particularly memorable when applied during a corporate meeting or political debate. Next day's headline, "He called (???) the lyingest knave in Christendom."
If you like this website why not subscribe (see last menu item to the right)? You will get automatically any new blog as well as any other information and novelty that will be forthcoming, including a system to effortlessly (yes) remember hundreds of Shakespearean quotes by heart and having fun in the process. You can also chat with me – please go to the chat-page. And I promise, no sales calls, trade leads, venomous schemes, hidden plots, Machiavellian conspiracies, commercial ploys, psychological tricks, leads exchanges, barter proposals, suggestions or offers of any kind imaginable (and unimaginable).

In the play. Humphrey of Gloucester unmasks the imposture of a self-declared blind man (Saunder) miraculously healed of blindness at St. Alban's. This expression is also found in the Taming of the Shrew, uttered by the character Sly