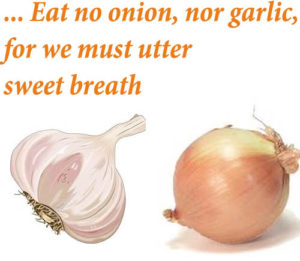 "And most dear actors, eat no onion, nor garlic, for we are to utter sweet breath." (Midsummer Night's Dream act 4, sc. 2)
Tips for Use.
You both are at dinner and the waiter suggests or praises a savory dish featuring garlic or onions as chief ingredients. Rather than say 'no' try, "Sorry, no onion, nor garlic, for we are to utter sweet breath." You may truly hate garlic or onions, still you are giving hints about your romantic disposition or intents.
Most people are put off by bad breath. Cleopatra herself, for example, chose death by snake poison, rather than suffering the risk of being exposed to the bad breath of the victorious Romans (…their thick breaths, rank of gross diet). In the book "Your Daily Shakespeare" you will find this as well as a wealth of other related cross references.
In the same spirit, Ovid recommends, 'Let not the breath of your mouth be sour and unpleasing and offend the nose' (Nec male odorati sit tristis anhelitus oris )(Art Of Love, book 1) and…. 'She whose breath is tainted should never speak before eating, and she should always stand at a distance from her lover's face' (Art Of Love, book 3)To receive an (almost) daily copy of the latest blog and Shakespearean verbal 'weapon' subscribe for free to this site (click on the top-right link on the menu).
And I promise, no sales calls, trade leads, venomous schemes, hidden plots, Machiavellian conspiracies, commercial ploys, psychological tricks, leads exchanges, barter proposals, suggestions or offers of any kind imaginable (and unimaginable).
Of course, if you acquire the book "Your Daily Shakespeare" (click on "The book" in the menu), you will not only enjoy it but you will find it very useful. The quote in this post and more than ten thousand others will lead you to find the words that perfectly strengthen your argument(s). After all Shakespeare wrote them, I simply extracted, structured and compiled them so as to make Shakespeare both useful in your life endeavors and very "user friendly" as they say. And if you wish I will even sign the book. But this is the extreme extent of any "sales" effort, call or solicitation.
In the play. An actor by the name of Bottom addresses his amateur acting companions before the play begins