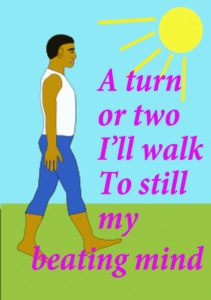 "…a turn or two I'll walk,
To still my beating mind." (Tempest act 4, sc. 1)
Tips for Use. For many health-care seems a very modern development, possibly because "health-care" is associated with the term health-care industry. And making an industry out of health-care brings to mind the idea of 'market economy' and all that is connected with it. Needless to say, medical knowledge and/or intuition has a long history. Walking as a mental health remedy and a relief for anxiety (besides other indications for fitness, weight-control etc.), even found its way into the Tempest, as a natural  and remarkably affordable medicine – it's actually free. Proving once more, if it were necessary, that healing does not have to be expensive to be effective.
To receive an (almost) daily copy of the latest blog and Shakespearean verbal 'weapon' subscribe for free to this site (click on the top-right link on the menu).
And I promise, no sales calls, trade leads, venomous schemes, hidden plots, Machiavellian conspiracies, commercial ploys, psychological tricks, leads exchanges, barter proposals, suggestions or offers of any kind imaginable (and unimaginable).
Of course, if you acquire the book "Your Daily Shakespeare" you will not only enjoy it but you will find it very useful. The quote in this post and more than ten thousand others will lead you to find the words that perfectly strengthen your argument(s). After all Shakespeare wrote them, I simply extracted, structured and compiled them so as to make Shakespeare both useful in your life endeavors and very "user friendly" as they say. And if you wish I will even sign the book. But this is the extreme extent of any "sales" effort, call or solicitation.
In the play. Prospero, resolved to thwart Caliban's plot against him tells Ferdinand and Miranda that he needs some time alone.
Image source http://www.clker.com/clipart-11430.html