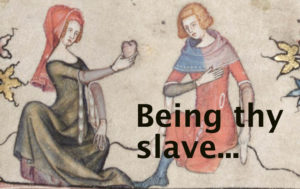 "Being thy slave what should I do but tend
Upon the hours and times of your desire?
I have no precious time at all to spend,
Nor services to do till you require." (SON.57)
Tips for Use.   Answer to, 'Will you do this for me?' And/or a follow up after you already said yes to her request. The first two lines already convey the idea perfectly, but quote all four lines to make an absolutely lasting impression.  The lines may equally applied with an ironic flavor to any person (boss?) who is overwhelming you with requests.
To receive an (almost) daily copy of the latest blog and Shakespearean verbal 'weapon' subscribe for free to this site (click on the top-right link on the menu) top the contact form.
And I promise, no sales calls, trade leads, venomous schemes, hidden plots, Machiavellian conspiracies, commercial ploys, psychological tricks, leads exchanges, barter proposals, suggestions or offers of any kind imaginable (and unimaginable).
Of course, if you acquire the book "Your Daily Shakespeare" you will not only enjoy it but you will find it very useful. The quote in this post and more than ten thousand others will lead you to find the words that perfectly strengthen your argument(s). After all Shakespeare wrote them, I simply extracted, structured and compiled them so as to make Shakespeare both useful in your life endeavors and very "user friendly" as they say. And if you wish I will even sign the book. But this is the extreme extent of any "sales" effort, call or solicitation.
In the sonnet. It appears that the main object of the affections of the poet in the Sonnets was actually a young man. Which does not prevent at all, of course, the addressing the same romantic lines to members of the opposite sex. In Sonnet 57 the poet is lonely while his friend is out, apparently, enjoying himself with others. Therefore the poet is sad and hopes for the restoration of an apparently shaky relationship.
Original Image http://www.gotmedieval.com/2010/08/romance-through-the-ages.html