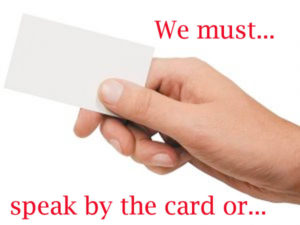 "How absolute the knave is! We must speak by the card or equivocation will undo us." (Hamlet, act 5, sc. 1)
Tips for Use.  If you are a public speaker or attended and participated to corporate meetings you may have experienced the event. That is, for the sake of simplification, you may, in your presentation or intervention, omit details that are clear or taken for granted. Yet, someone stands up, points out, complains or reprimands you for having left that information out. That's the time to interject some irony, "We must speak by the card or equivocation will undo us." …. Equally useful as a preamble when someone claims not to have understood what you said. Or during an interview, if your interviewer brings your attention to something you may have left out of your answer.
To receive an (almost) daily copy of the latest blog and Shakespearean verbal 'weapon' subscribe for free to this site (click on the top-right link on the menu) top the contact form.
And I promise, no sales calls, trade leads, venomous schemes, hidden plots, Machiavellian conspiracies, commercial ploys, psychological tricks, leads exchanges, barter proposals, suggestions or offers of any kind imaginable (and unimaginable).
Of course, if you acquire the book "Your Daily Shakespeare" you will not only enjoy it but you will find it very useful. The quote in this post and more than ten thousand others will lead you to find the words that perfectly strengthen your argument(s). After all Shakespeare wrote them, I simply extracted, structured and compiled them so as to make Shakespeare very "user friendly" as they say. And if you wish I will even sign the book. But this is the extreme extent of any "sales" effort, call or solicitation.
In the play. Hamlet to Horatio, referring to a witty gravedigger (the "absolute knave"), who is preparing Ophelia's grave. Ophelia, mad with grief at the death of her father Polonius and at Hamlet's madness has drowned herself in a river nearby.
original image,  http://www.broken-arts.com/