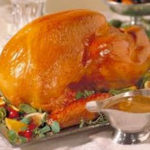 "Now, good digestion wait on appetite,
And health on both!" (Macbeth 3.4)
How to Use. Excellent and appropriate lines when you are asked to say a few words before or after a dinner. To add a touch of irony or black humor, you may refer to the origin of the quote. Namely, Macbeth hires two terrorists to kill his unsuspecting friend Banquo. Shortly afterwards, Macbeth organizes a banquet in his castle, but Banquo's ghost is hovering about.
You will find this quote in "Your Daily Shakespeare" at page 940 along with pages of other equally suitable Shakespearean toasts.