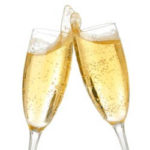 "I drink to the general joy o' the whole table" (M.3.4)
How to Use. The occasion where to use this quote is self-explanatory. It could open your before-dinner or after-dinner speech or toast. You could even add a bit of self-irony, considering the situation where the lines appear in Macbeth.  In fact Macbeth, after first killing Duncan and then Banquo, proposes a toast to the other guests at his table. He also attempts to justify Banquo's absence by pretending not to know.
See "Your Daily Shakespeare" page 940, where you will find many other Shakespearean ways to propose toasts to friends and miscellaneous audiences. Your Daily Shakespeare is a unique and useful source for the striking and best Shakespearean quotes for all occasions, actually more than 10,000.