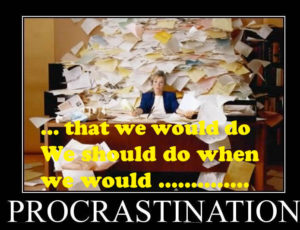 "… that we would do
We should do when we would; for this 'would' changes
And hath abatements and delays as many
As there are tongues, are hands, are accidents;
And then this 'should' is like a spendthrift sigh,
That hurts by easing."
(Hamlet act 4, sc. 7)
Tips for Use.  Stimulate prompt action after an initial indication of consent. Sometimes we (and others) say or are convinced that we will do something, while simultaneously harboring a (sometimes unconscious) expectation to delay action. Countless courses in time management or similar attempt to teach the simple truth conveyed by these elegant lines. Good lines to explain your principle of action – if you believe in it. During a job interview, a good answer on what is your mode of operation and philosophy of action.
Somewhere in the recesses of memory is a line that went as follows, "Work is one of the greatest things on earth – therefore you should always leave some for tomorrow." Which is in direct contradiction to the advise that Lord Chesterfield gave his son in a letter, "No idleness, no laziness, no procrastination; never put off till tomorrow what you can do today." Also because this 'tomorrow', this 'by and by' never comes, as confirmed by St. Augustine in Latin, "Modo, et modo, non habebant modum."
Take a look at the web-page describing the book "Your Daily Shakespeare", 1390 pages filled to the brim with over 10,000 situations you may find yourself in or involved with, attuned to the perfect Shakespearean repartee that will get you on the stage or at least out of the water – besides making you  a winner of verbal contests. "Your Daily Shakespeare" has been described as the most unusual, useful and unique book of Shakespearean quotations. Nothing similar exists or has ever existed.
And if you like this website why not subscribe (see last menu item to the right)? You will get automatically any new blog as well as any other information and novelty that will be forthcoming, including a system to effortlessly (yes) remember hundreds of Shakespearean quotes by heart while having fun in the process. You can also chat with me – please go to the chat-page. And I promise, no sales calls, trade leads, venomous schemes, hidden plots, Machiavellian conspiracies, commercial ploys, psychological tricks, leads exchanges, barter proposals, suggestions or offers of any kind imaginable (and unimaginable).
In the play. King Claudius prompts Laertes to act quickly in taking revenge against Hamlet, who killed Polonius, Laertes' father
Image Source:    http://slices-of-life.com/2011/03/09/procrastination-definition-quotes/