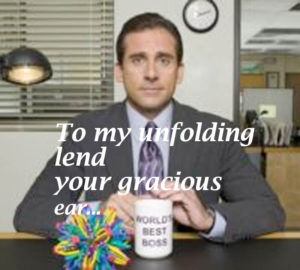 "To my unfolding lend your gracious ear,
And let me find a charter in your voice
To assist my simpleness."
(Othello, act 1, sc. 3)
Comments.  You know all the practical reasons for asking for a raise in salary, but these lines make for a sensible introduction. This of course implies that your boss or employer may have a literary bent or at least not  be totally alien to literature. As for what comes after the introduction you are in the best position to assess your situation – how you can demonstrate your worth to your employer, tact and skill in not crossing the line of overbearingness, etc. Engage your counterpart and make sure that your conversation is not a procession of one. And just in case you are asked, "What does 'find a charter in your voice' means?" It means, "allow me the privilege of being assisted etc." 'Charter' comes from the old French 'chartre' meaning letter, document, covenant, something official. The first line "To my unfolding lend your precious ear." works equally well as a beginning of a presentation.
You may look at the page describing the book "Your Daily Shakespeare", 1390 pages filled to the brim with over 10,000 situations you may find yourself in or involved with, attuned to the perfect Shakespearean repartee that will get you on the stage or at least out of the water – besides making a winner of any verbal contest. The analytical index is structured so that you can quickly select the best words that fit the situation. And if you like this website why not subscribe (see last menu item to the right)? You will get automatically any new blog as well as any other information and novelty that will be forthcoming, including a system to effortlessly (yes) remember hundreds of Shakespearean quotes by heart while having fun in the process. You can also chat with me – please go to the chat-page. And I promise, no sales calls, trade leads, venomous schemes, hidden plots, Machiavellian conspiracies, commercial ploys, psychological tricks, leads exchanges, barter proposals, suggestions or offers of any kind imaginable (and unimaginable).
In the Play.  Desdemona pleads with the Duke of Venice that she may be allowed to accompany Othello to Cyprus, where he has been assigned.
Image Source: http://kenthomas.us/?p=1638