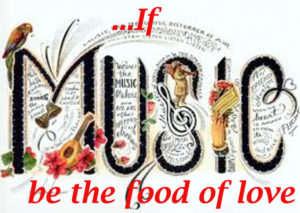 "If music be the food of love, play on;
Give me excess of it; that surfeiting
The appetite may sicken and so die. (Twelfth Night act 1, sc. 1)
Tips for use. Answer to 'Would you like to listen to some music?' in a romantic setting. Music occupies the void that words cannot fill. Though not everyone has held the same favorable attitude on the matter. It had a bad effect on the virtues of ladies, especially if they were inclined to poetry.  In "The Anatomie of Abuse", Philip Stubbes (1583-1591) writes, "I say of Musick as Plato, Aristotle, Galen and many others haue said of it: that it is very il for young heds, for a certaine kinde of nice, smoothe sweetness in alluring the auditorie to effeminacie, pusillanimity, and lothsomnes of life… and made apt to all wantonness and sinne. And thefore Writers affirme Sappho to haue been expert in musick, and therefore whorish."
If you like this website why not subscribe (see last menu item to the right)? You will get automatically any new blog as well as any other information and novelty that will be forthcoming, including a system to effortlessly (yes) remember hundreds of Shakespearean quotes by heart and having fun in the process. You can also chat with me – please go to the chat-page. And I promise, no sales calls, trade leads, venomous schemes, hidden plots, Machiavellian conspiracies, commercial ploys, psychological tricks, leads exchanges, barter proposals, suggestions or offers of any kind imaginable (and unimaginable).
In the play. Orsino, the Duke of Illyria loves Olivia who does not return his love. He asks attending musicians to play for him
Image Source. http://akiwiinparis.blogspot.com/2012/02/you-have-to-have-end.html