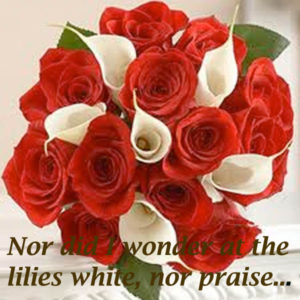 "Nor did I wonder at the lily's white,
Nor praise the deep vermilion in the rose.
They were but sweet, but figures of delight,
Drawn after you, you pattern of all those. (SON.98)
Tips for use. Keep these lines at hand when you sense that your better half, girlfriend or significant other is ready for more compliments. Or maybe she has been away for a long time and you meet her at the airport.
Sonnet 98, as well as many others, were not actually addresses to a woman but to a young man. This piece of information reflects literary accuracy, not reservations on the issue. Here WS compares various spring and summer items of beauty to the youth's beauty and concludes that they are but imperfect copies of his friend's appearance.
The association of love with roses is familiar. Less common is the association of love with cities. French novelist Honore' de Balzac had twenty-three 'sacred' towns. In writing to Countess Hanska he says 'I do not know what they (the 23 cities) mean to you but for me, when one of these names enters my thoughts, it is as if a Chopin were touching a piano key; the hammer awakens sounds which reverberate through my soul, and a complete poem takes shape…And St. Petersburg? The blue salon on the Neva! The first initiation of my sweetheart, the first step in her education. What a union: it lasted for two months without a false note, unless one is to count that argument over the hat and the one about the expense of engaging a cook.'
If you like this website why not subscribe (see last menu item to the right)? You will get automatically any new blog as well as any other information and novelty that will be forthcoming, including a system to effortlessly (yes) remember hundreds of Shakespearean quotes by heart and having fun in the process. You can also chat with me – please go to the chat-page. And I promise, no sales calls, trade leads, venomous schemes, hidden plots, Machiavellian conspiracies, commercial ploys, psychological tricks, leads exchanges, barter proposals, suggestions or offers of any kind imaginable (and unimaginable).
Image Source http://bouquetbridal.blogspot.com/2011/08/calla-lily-and-roses.html