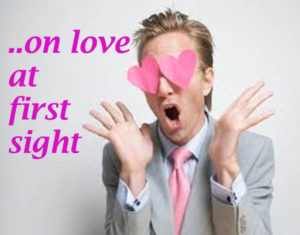 "Who ever loved that loved not at first sight?" (As You Like It, act 3, sc. 5)
Tips for Use.  The theme of love at first sight is frequent in Shakespeare's plays. Maybe because questions such as 'When did you first like me?' or 'When did you begin to love me?' or similar, are a recurrent topic in intimate romantic conversations. Besides, ladies (and, who knows, some males too), like to think that they made an immediate appeal, irrespective of how long it took for the relationship to develop. Therefore should you ever find yourself the recipient of this questions, today's quote is the perfect answer.
If you like this website why not subscribe (see last menu item to the right)? You will get automatically any new blog as well as any other information and novelty that will be forthcoming, including a system to effortlessly (yes) remember hundreds of Shakespearean quotes by heart and having fun in the process. You can also chat with me – please go to the chat-page. And I promise, no sales calls, trade leads, venomous schemes, hidden plots, Machiavellian conspiracies, commercial ploys, psychological tricks, leads exchanges, barter proposals, suggestions or offers of any kind imaginable (and unimaginable).
In the play. Silvius loves Phebe but Phebe has a crush on the disguised Rosalind whom she (Phebe) believes to be a boy and let's leave it at that. All sorts of mishaps ensue, but in the end Silvius marries Phebe and Rosalind, having dropped her disguise, marries Orlando, the hero of the play.
Image source: http://purduecco.wordpress.com/2011/09/19/first-impressions-at-an-interview-it%E2%80%99s-like-love-at-first-sight/