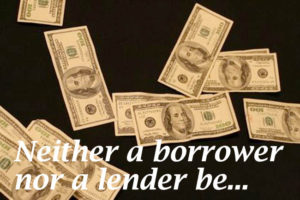 "Neither a borrower nor a lender be;
For loan oft loses both itself and friend,
And borrowing dulls the edge of husbandry." (Hamlet act 1, sc. 3)
Tips for Use. Today Polonius would probably modify his exhortations. Rather than not borrowing or lending he would advise his son Laertes not to deal with Credit Swaps or Collateralized Debt Obligations. It is hot news today that one of the usual banking giants, J.P. Morgan, has lost the usual billions in some 'risky trading'. The suggested change in the text …would lose the rhythm of words and would be tougher to memorize. But as far as borrowing dulling the edge of husbandry, Laertes would not have to worry. Banks only lend money to those who do not need it – much better (for the banks), to play on the globalized roulette of fictitious transactions, shady deals and incomprehensible financial so-called 'instruments'. On a personal level it makes a good line to explain or cover up why you cannot lend money to whoever may ask you for it.
If you like this website why not subscribe (see last menu item to the right)? You will get automatically any new blog as well as any other information and novelty that will be forthcoming, including a system to effortlessly (yes) remember hundreds of Shakespearean quotes by heart and having fun in the process. You can also chat with me – please go to the chat-page. And I promise, no sales calls, trade leads, venomous schemes, hidden plots, Machiavellian conspiracies, commercial ploys, psychological tricks, leads exchanges, barter proposals, suggestions or offers of any kind imaginable (and unimaginable).

In the play.  These lines are part of the conspicuous list of advices that Polonius gives his son Laertes before the son leaves for Paris. In truth, Polonius did not put much faith that the advice be carried out. So much so that he dispatched a private investigator to follow Laertes in Paris and report back on his behavior. In this blog-website, we have dealt already with some of the other advise and warnings and, the Gods willing, we will deal with more.
Image sources http://www.ehow.com/how_7939796_payday-loan-lender.html