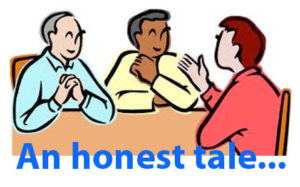 "An honest tale speeds best being plainly told." (King Richard III act4, sc. 4)
Tips for Use.  In times when confusion is a sign of intelligence and ambiguity of genius suggesting otherwise is painfully naïve. Often, however, there is some unexpected value in (at least) the appearance of honesty. This is part of the indispensable equipment of many a politician (not to say all), let alone salesmen, advertisers, promoters and a vast class of purveyors of nonsense.
Yet, a concise, rhythmic, symmetrical and after all true statement, in principle if not in practice may carry some weight and bring some value. This may apply, for example, in the course of a presentation, or even an interview. Say you are asked a question for the answer to which you have two choices – either to engage into a lengthy explanation running the risk of confusing the hearer, or to summarize the answer (or the event) into a concise conclusion. If so, having the quote preceding your summary, may add weight and credibility to your conclusion. For example, "Look, an honest tale speeds best when plainly told and the situation is like this….."
To receive an (almost) daily copy of the latest blog and Shakespearean verbal 'weapon' enter your details in the contact form or click on "Entries RSS" at the bottom of the column on the right hand site of this page. And I promise, no sales calls, trade leads, venomous schemes, hidden plots, commercial ploys, psychological tricks, leads exchanges, barter proposals, suggestions or offers of any kind imaginable (and unimaginable).
Of course, if you acquire the book "Your Daily Shakespeare" you will not only enjoy it but you will find it very useful. The quote in this post and more than ten thousand others  will lead you to find the words that perfectly strengthen your argument(s). After all Shakespeare wrote them, I simply extracted, structured and compiled them so as to make Shakespeare very "user friendly" as they say. And if you wish I will even sign the book. But this is the extent of any "sales" effort, call or solicitation.
In the play. Richard, now king after having eliminated opponents and competition, wants to marry young Elizabeth, daughter of Queen Elizabeth, widow of Edward IV and prompts the mother to present his suit to the daughter (Be eloquent on my behalf!) Q. Elizabeth responds with this line.
original image http://englishinteractive.net/tutor.htm