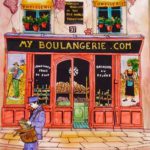 "I shall never move thee in French, unless it be to laugh at me." (King Henry V 5.2)
How to use. The quote is applicable to whatever nationality your girlfriend may have, if you are weak in her language, e.g. "I shall never move thee in Hungarian, unless it be to laugh at me"You will find this quote in "Your Daily Shakespeare" at p. 350 along with other 3 pages of quotes applicable when you are dealing with foreign girls within or without a romantic setting.
In the play. Henry V woos Kathryn of France after having defeated the French at Agincourt. Clearly a political marriage to give a coat of respectability to the imperial ambitions of England. The first justification for the invasion had been provided by priests at the English court who, with a rather questionable argument found that Henry had a right to the French crown through lineage.