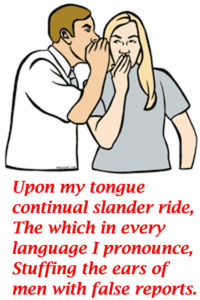 "Upon my tongue continual slanders ride,
The which in every language I pronounce,
Stuffing the ears of man with false reports."
(KHIV.p2.introduction)
Comments. A good retort to any sentence of the type 'I have heard that you…. etc." and you wish to deny whatever the rumor (or the statement) about you may be. Without prejudice, it is a fact that ladies have a greater inclination for rumor and gossip than members of the less gentle sex. An observation that caused a man to say about a gossip-monger lady, "She has a good sense of rumor." Observations about others are notoriously more freely delivered when the subject others are not present. A fact that led a friend of Oscar Wilde to advise, "Don't talk about yourself; it will be done when you leave." On the other hand, what cannot be avoided must be eschewed. After all, as Oscar Wilde himself said, "It does not matter what people say about you, as long as you are talked about."
You may look at the web-page describing the book "Your Daily Shakespeare", 1390 pages filled to the brim with over 10,000 situations you may find yourself in or involved with, attuned to the perfect Shakespearean repartee that will get you on the stage or at least out of the water – besides making a winner of any verbal contest. The analytical index is structured so that you can quickly select the best words that fit the situation. And if you like this website why not subscribe (see last menu item to the right)? You will get automatically any new blog as well as any other information and novelty that will be forthcoming, including a system to effortlessly (yes) remember hundreds of Shakespearean quotes by heart while having fun in the process. You can also chat with me – please go to the chat-page. And I promise, no sales calls, trade leads, venomous schemes, hidden plots, Machiavellian conspiracies, commercial ploys, psychological tricks, leads exchanges, barter proposals, suggestions or offers of any kind imaginable (and unimaginable).
In the Play.  Rumor introduces himself. The false rumor referred to is that Hotspur is alive and that the battle of Shrewsbury has been won by the rebels. Instead, Hotspur has been killed by the Prince of Wales and the king's forces are in pursuit of the rebels.
Image Source: http://www.freeldsart.com/gossip.htm