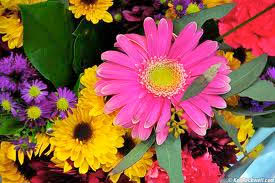 "More flowers I noted, yet none I could see,
But sweet, or colour it had stolen from thee." (SON 99)
Tips for use. A good compliment never fails to work. "I could live for a month on a good compliment", said Mark Twain. Write the topic quoted Shakespeare lines on a  Valentine card or birthday, friendship, etc. The quote may equally work well  if both of you are attending a flower show or are taking a walk in the country.
Mnemonics. Do you wish to memorize these lines. See Mnemonic Frame #4 in the Mnemonic Frames Page