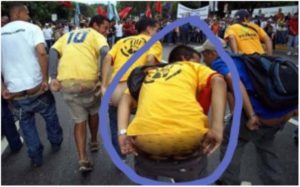 So much has been said about the Venezuelan crisis that adding more would equate to gilding the lily or carrying coal to Newcastle.
The following, then, is but a brief aside on the psychology and physiognomy of the protagonists of the ongoing coup, starting with Guaido' – or "Guido" as Mike Pompeo's re-baptism , while he anointed him as self-appointed president of Venezuela.
If the face is indeed an open book where men may read strange matters, (1) the attached image of the afore-said putative president of Venezuela proves the point. A camera immortalized him thus in 2009, during a political demonstration.
I have unprofessionally modified some extreme features to obscure a part of the body that I will forbear to mention out of my inviolable respect for the ladies. Continue reading →